2017 IBC Graduates Challenged to Extend the Gospel in India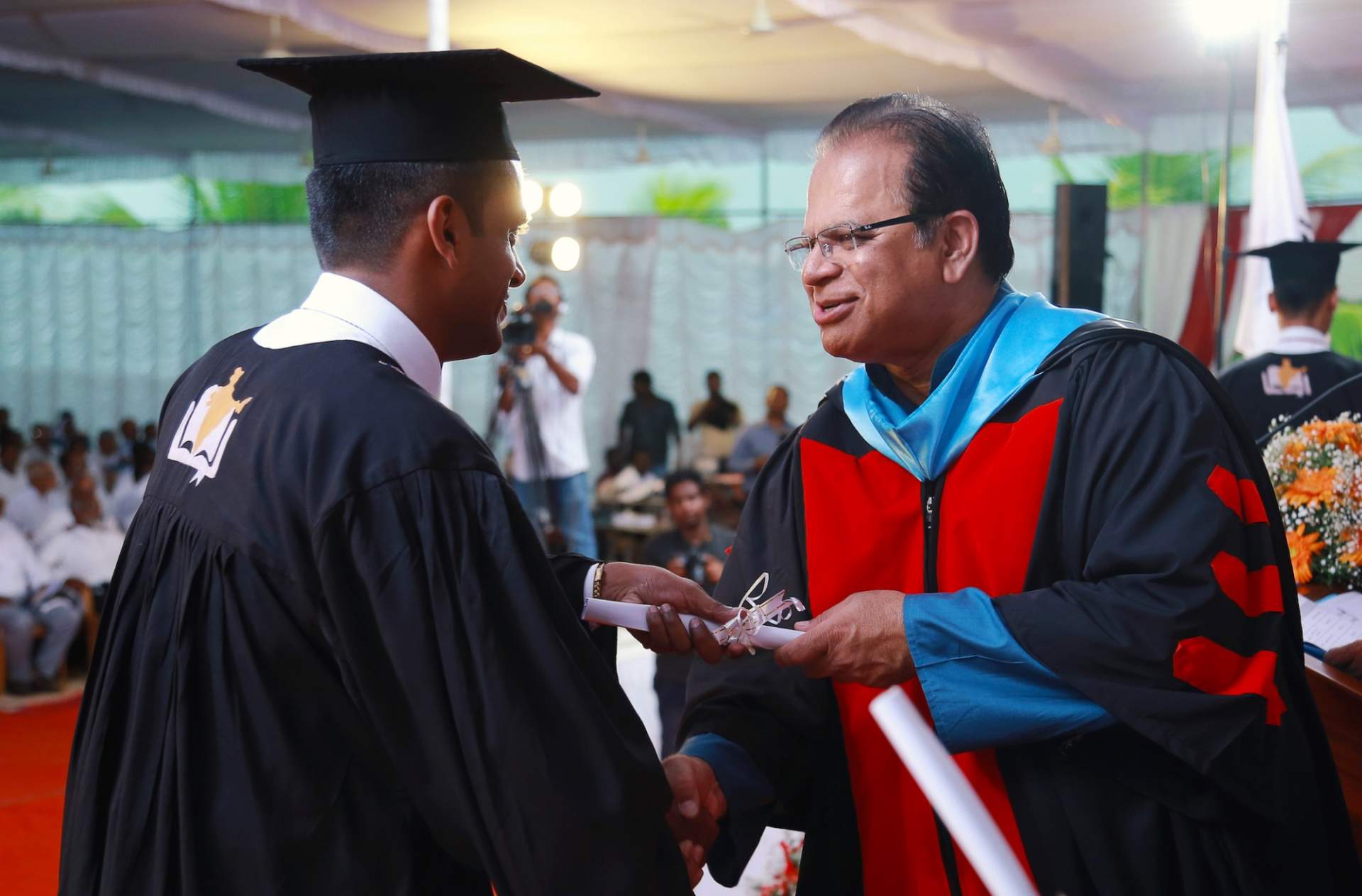 Praise God for the 97 new evangelists and church planters from India Bible College & Seminary.
This year's graduation at India Bible College & Seminary took place on March 16th and is the 87th occasion to send new graduates to extend the parameters of the gospel throughout India.
Dr. Alexander Philip, who operates a medical hospital and does translation work in the state of Bihar, gave an excellent missionary address for the graduation at India Bible College & Seminary on the graduation theme of "Stewardship." This Spirit-filled man was born in Nigeria and studied in the U.S. He has directed his hospital in north Bihar for the past 22 years.
This year's 97 graduates included 24 women who participated in each of IBC's degree programs.
IGO President Valson Abraham gave the presidential charge to the graduates and encouraged them in their future ministries.
This year also saw the graduation of the first person from IBC's new Master of Theology in Biblical Counseling program, Samuel K.E.
Special recognition came to faculty members, P.T. Subrahmanyan and M.T. Rajeevan, who completed their PhDs in Religion and History of Christianity respectively.
Bad weather conditions threatened the graduation, but God answered prayer and provided good weather. At India Bible College & Seminary, the service is held under a large shelter, and the day began, hot and humid. During the service, heavy showers reduced the heat and humidity.
This year's class saw the graduation of a number of outstanding students, among them Ratna from Nepal. She came to India Bible College & Seminary in 2013 from a Hindu background, not speaking nor understanding a word of English.
After committing her life to Jesus Christ in 2011, she developed a deep hunger to learn more of the Bible and use her learning to glorify Him. Her enthusiasm and willingness to study became evident to all faculty members who met her, and they decided to offer her a special program that included an extra year to learn English which would enable her to participate in basic classes and qualify her for the Bachelor of Theology degree.
She took the challenge, working very diligently so that she became qualified for the B.Th. program. All of her instructors and fellow students commented on her outstanding positive attitude and her ability to speak English with good pronunciation and a grasp of complex English grammar. Throughout her years at IBC, she improved in every area of her studies and became well-adjusted to campus life. In the end, she graduated at the top of her class. She has returned to Nepal where she is working among Nepal's women and children.
Another outstanding graduate, Farida Z. (name changed to protect her), comes from Madhya Pradesh from a Muslim background. She came to know Christ in 2007 after she and her family experienced many crises. Her pastor brought her and two other students to IBC from his local church.
At IBC, she demonstrated a high commitment and a balanced, healthy attitude, blessing the faculty and community at the school with her testimony and dedication. After graduation, she went to Odisha where she is now serving in a home for impoverished young girls, rescuing many of whom are vulnerable to sexual trafficking.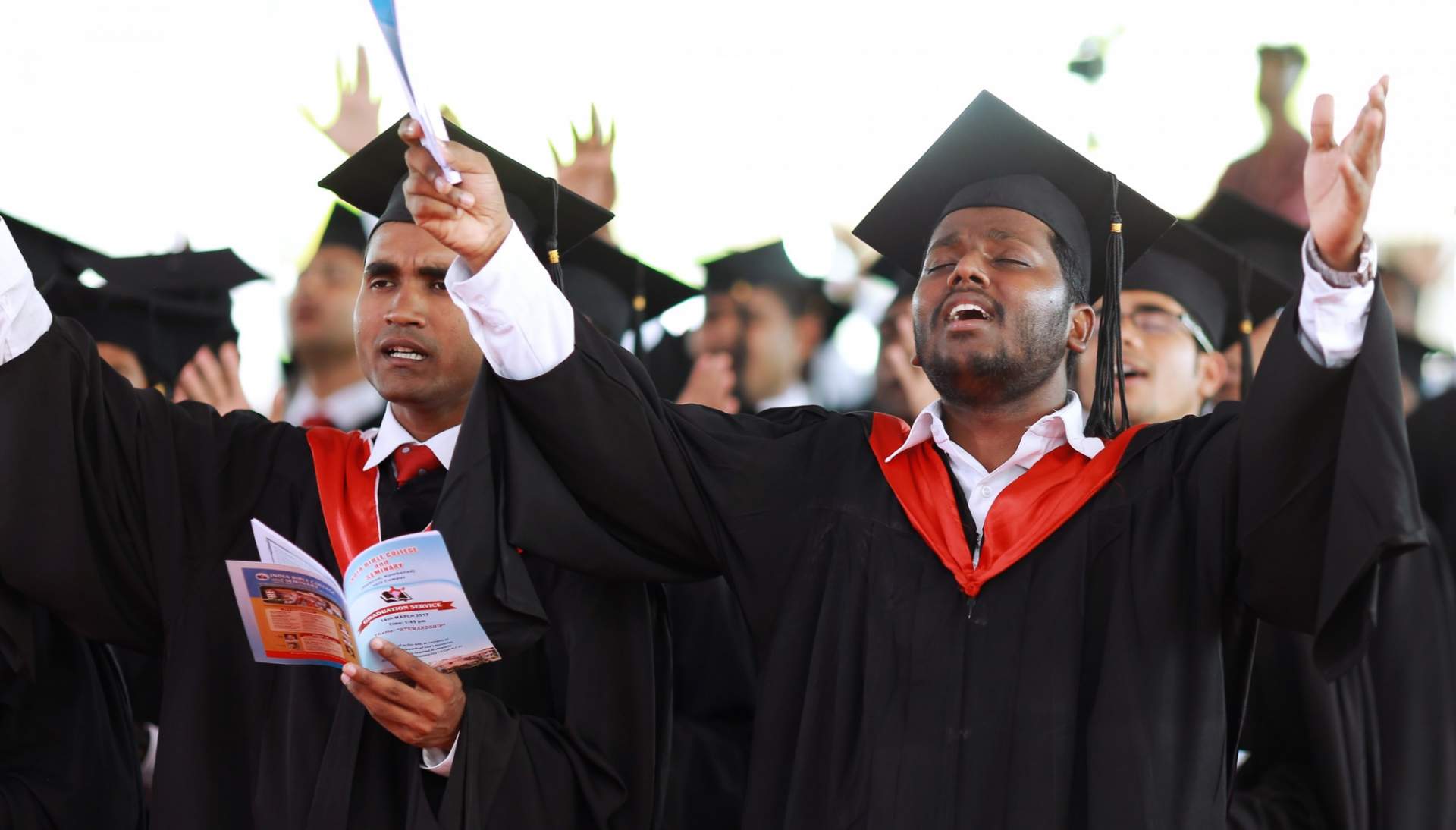 Sanjay and Deepika are husband and wife from the northeastern state of Haryana who graduated together. They arrived just ten days after their marriage, and at first, they had to live in separate dorms for men and lady students because there was no available place for them. They ate in the dining hall like the other students.
They met a Christian medical doctor from a local hospital, a former Brahmin before he met Jesus. He took an interest in Sanjay and Deepika's plight, introducing them to his local congregation who helped them to find a place to live together as husband and wife.
They became acquainted with a labor community that came from north India, their original home, and shared a common language, Hindi. They opened their home to these people, conducted Bible studies in Hindi and saw their meetings grow to more than 30 people, all Hindi-speaking people who heard the message of salvation in their heart language.
Since graduation, they have received an opportunity to return to north India and work with Punjab Bible College to extend the gospel in north India including their home state of Haryana. Haryana is one of India's most radical Hindu states, one of the toughest in India for the spread of the gospel. The young couple has learned to develop their bold witness in one of India's most spiritually difficult areas.
Their difficulty at finding housing right after their marriage demonstrates the need for a couple's quarters at India Bible College & Seminary. This provision is part of IGO's Masterplan, but so far we have less than $8,750 dedicated to this necessary project.
Ching Ngaih came to India Bible College & Seminary through Mizoram Bible College. She became a dedicated student, and she adapted to Kerala's hotter and more humid climate and surroundings. Her pleasant personality and gifts won her many friends and much respect.
When she came to IBC, she feared she would have to end her studies after the first year because she could not pay even minimum student fees. But God provided and enabled her to continue and complete her studies. Like many people in Mizoram, she enjoyed singing, and she quickly joined the college choir, picking up the local Malayalam language.
Our graduates face an unstable Indian economy. High prices produce hardships on just about everybody except the very rich. In July, the cost of living will rise with a 40% increase in electricity. At our Bible training centers, we are daily challenged to economize in the basic necessities without losing quality. We need the wisdom of the Lord in these things. These challenges put great hardships on many of our evangelists and their families.
Our graduates also face a growing political climate of hostility toward Christians. Strong elements in the national government want to transform India into a Hindu-only nation. This clashes with the clear command of Christ to preach the gospel and make disciples of
all peoples.
Pray for our graduates, that they will depend upon God to help them overcome these forces, more powerful than they, but not for Him.
Pray for breakthroughs for the gospel in new places that have never heard the Good News.
Pray for God's provision for our new evangelists to feed, shelter and clothe their families in times of economic challenge.
Pray for a great harvest of souls for the gospel in spite of these obstacles.