Joby's Story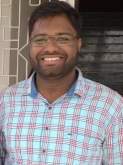 Praise God that His ways are not our ways!
Mrs. Starla Luke, administrator at India Bible College and Seminary, sent us a report recently received from Joby K.S., a graduate of 2017. Joby comes from the state of Bihar and returned to Bihar after his graduation. For centuries, Bihar has been known as the "graveyard of missions," but in recent years, the people have shown increasing openness to the Good News.
As a student at IBC, Joby, who came from poor background, was chronically plagued by complex medical problems. His fragile health gave the local hospitals constant business. Not a week passed that he enjoyed good health. He always had a bandage on one of his limbs.
His sensitive body caused him to miss so many classes that it took him FIVE years to complete the three-year bachelor of theology program. Bihar is not an easy place to minister, and few believed Joby would survive. But God knew what He was doing when He called this frail servant. His ways are not our ways.
For the past three years, Joby has experienced a multi-faceted ministry in Bihar that requires energy most people don't have. He is the medical coordinator of a Christian mission hospital, distributes food to street people, manages a home for the aged, helps with translation of gospel materials into Hindi, handles medical emergencies for villagers and the elderly and has helped in a nearby leper colony.
He also took another year of training to learn how to help missionaries deal with medical emergencies of the people they serve.
During those three years, he has not had to take any medication or spend a single day in a hospital! He says his years-long experience with health problems has given him a deep understanding of others who suffer with health issues. His ability to empathize with the sick and the poor has opened hearts to the gospel that would be touched in no other way.
Joby is excited about how God is using him—and how God has used his many health problems to prepare him for fruit-bearing. He is grateful to those who supported him and prayed for him when life looked so hopeless.
At least ten other IBC graduates serve the Lord in Bihar in medical capacities. Their supervisors report that they stand out in their excellent work and good training in the Word of God. This training gives them a firm foundation for the challenges and opportunities of Bihar's uniquely difficult spiritual conditions. Two twin sisters, Berla and Berly, graduated from IBC in 2020 and have also gone to Bihar.
Your prayerful sponsorship of IGO evangelists and students makes a difference. Perhaps God is calling you to help one or more students or evangelists. You can help by providing $60-120/month for each student. You can help support an evangelist by committing $100-200 a month (depending on location and family situation). We welcome partial support.
Pray God's provision for each of our students and evangelists. Pray about your own involvement in their lives and ministries.