Mary Abraham (1925-2016)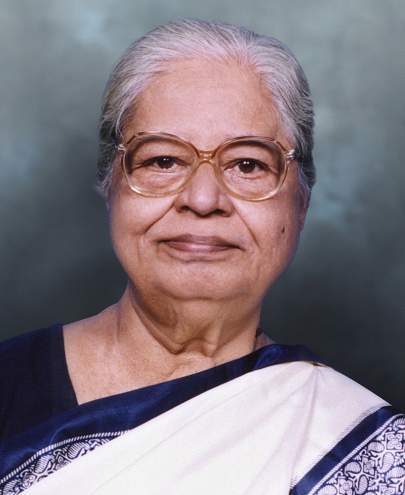 Mary Abraham was promoted to glory on November 26, 2016.
Beloved by many, she was the wife of Pastor T. S. Abraham and daughter of pioneer evangelists/church planters, Pastor P.T. Chacko and Annamma Chacko. She is mother of IGO President Valson Abraham, and in countless ways, helped to inspire the founding and growth of IGO's ministry.
She was born on September 2, 1925, the eldest of six. In 1936, Mary and her two sisters went with their parents to Andhra Pradesh and planted a church in Eluru. There, the ministry took on a national outlook.
In 1939, her parents pioneered ministry in Secunderabad and Hyderabad and worked for the Lord throughout the state. Starting at age 11, Mary Abraham translated for her father's preaching. Together, they powerfully communicated the Good News of Jesus' saving grace and love, transforming untold numbers of lives. She also translated for many other evangelists, pastors and missionaries. The entire family sacrificed for the ministry, laying foundation for fruitful mission and churches that multiplies to this day.
Mary Abraham was an outstanding student and teacher. In her secular work, she became known for excellence and efficiency. She received the Indian President's Award for Teachers and became inspectress of 106 high schools in Hyderabad and Secunderabad, in Andhra Pradesh.
Mary Abraham and T. S. Abraham wed on April 27, 1950, beginning 66 loving years of marriage with four children: IGO President T. Valson Abraham, Annie Jacob, Starla Luke and Shirley Chacko. They raised them all to love and serve the Lord.
In 1980, Mary Abraham retired early from her secular post and returned to Kumbanad, Kerala, to partner and teach with her husband in ministry. She taught at Hebron Bible College—now India Bible College and Seminary—until 2006, shouldering leadership duties. She became an exemplary Bible teacher, expounding scriptures with clarity.
A tireless worker, she was affectionately called "Mummy" by her children and Bible college students alike. She mentored, trained and supported thousands of students and evangelists. She imparted spiritual wisdom and gave generously until the end of her life.
Christ powerfully used Mary Abraham in gospel work. She was also a woman of deep prayer. She consistently interceded for ministers and their families and missions at large. She constantly prayed for her own family.
The blessings of God on her children, grandchildren and great-grandchildren result from Mary and T.S. Abraham's prayers and character. She remains a shining example of what it means to serve Christ consistently and faithfully.
Always devoted to her family, she is survived by her husband, Pastor T.S. Abraham, and four children, eight grandchildren, five great-grandchildren, one sister and one brother.
Mary Abraham has fought the good fight, finished the race and kept the faith. She now lives in the presence of the King she served and adored.