Suhana's Story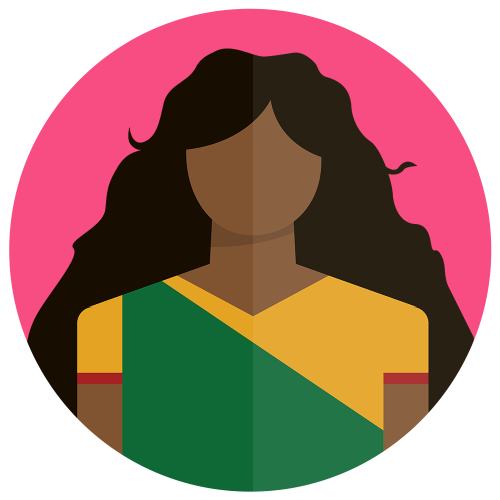 Name changed and photo censored for the protection of our graduate.
Praise God for bringing men and women from unlikely backgrounds to India Bible College and Seminary to prepare for evangelistic and church planting ministry. This is an update on one of IBC's graduates.
Suhana comes from a strongly traditional Hindu family in West Bengal. Her father was an Indian army officer in the remote mountain city of Darjeeling, 1,800 miles away from India Bible College and Seminary.
In spite of her solid Hindu upbringing, Suhana became a Christian at age 18 after she wandered "by accident" into a small Christian fellowship meeting. That day, she heard a clear presentation of the gospel, and like a small child, her spiritual eyes were opened. Immediately, she committed her life to Christ.
She knew her decision would infuriate her family. As long as she could, she kept her new faith a secret. She made excuses to leave the house at worship time, and a year after her conversion, she received water baptism. Eventually, her family discovered her secret. From that day, she came under daily attacks from immediate family, relatives and friends. They mocked her, saying, "How can your new God help you? He couldn't even save Himself!"
Suhana determined to be a good testimony to them. Now cut off from other believers, she had no one to turn to except the Lord, always receiving what she needed.
Out of the blue, she received a visit from Evangelists Pradeep Kumar and Mhontsen Lotha, recent graduates of India Bible College and Seminary who had just arrived in Darjeeling. After years of isolation from other believers, their visit was like an angelic visitation.
Evangelists Pradeep and Mhontsen became impressed with Suhana's persistence and encouraged her to come to study the Word of God at India Bible College and Seminary and prepare her life for service. She knew this was God's invitation. She entered IBC in 2009, excelled in her studies and graduated in 2012 with a bachelor of theology degree.
Her brother, in the Indian military and still a Hindu, came to her graduation out of curiosity. Impressed by her life and testimony and those of other men and women of IBC, he later paid the entire cost of a three-year master of divinity program when she decided to go to a Christian college in north India, closer to home! That is a story in and of itself!
There, Suhana also excelled in her studies—and met a missionary from Kerala with a call to evangelize north India. His call and hers matched perfectly, and they wed. Today, they work as a husband-wife team for Jesus in Haridwar, one of the seven most holy sites of Hinduism. Haridwar hosts of one of the largest Hindu events in the world, attracting over 40 million people when it was last held in 2010 (the next one takes place in 2022).
She and her husband are praying and working to change the course of Haridwar's spiritual destiny. In Haridwar, only 1 in 500 people are Christians, mostly nominal believers.
Perhaps God is calling you to help one or more students or evangelists like Suhana. As you celebrate Jesus' coming into the world and enter a New Year, you can help by providing $60-120/month for each student. You can help support an evangelist by committing $150-250 a month (depending on location and family situation). We welcome partial support.
Pray God's provision for each of our students and evangelists. Pray about your own involvement in their lives and ministries in the New Year just ahead.